Home
Details

Written by

ZAIM MOHAMED
Booking tour guide possible 1 hour before tour.
Contact tour guide in marrakech: 0629596100
or Email: This email address is being protected from spambots. You need JavaScript enabled to view it.

Meeting point: In front of the Bahia palace.

Tailor-made guided walking tours in marrakech. Historic and souks visit :
2 to 4 hours visit for just 30 euro.
English / Dutch / FLEMISH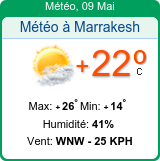 AB
                        ABOUT:
Translator, subtitlor, travel planner, personal shopper and professional tour guide with enough experience since 1996 in Marrakech. Gids, reisbegeleider in Marrakech.
Speak fluent arabic, dutch, english, french and basic italian.
Studied in the high international institute of tourism .
Studied dutch language and social work.
A guide who can listen to you and arrange tailor made trips and visits, travel advice, transport, transfers,
translation services and interpretation of excursions. 
When: Visits are possible: Everyday
Booking: Possible 1hour before starting the visit.
                 Translations / Subtitling     
DUTCH TO ARABIC
FRENCH OR ENGLISH
- Rate Translations: 5 euro cent per word.
- Use of a cat tool: Wordfast, Across, MemoQ, OmegaT, Memsource, SmartCat,
Matecat
 TOURGUIDE CONTACT:
TEL:+212629596100 From Morocco: 0629596100
Telegram +212629596100
 E-MAIL: This email address is being protected from spambots. You need JavaScript enabled to view it. 
---
GUIDED TOURS IN MARRAKECH
When: Visits are possible: Everyday
Booking: Possible 1hour before starting the visit
Meetingspoint: Hotel or other
1- Historical visit: Duration:  3 to 6 hours:
- Koutoubia mosque (from outside) (free visit)
- Bahia palace, (10 dhs/pers)
- medersa ben youssef (now closed for restauration) can be replaced with:
- Museum of Marrakech. (50 dhs/pers)
- T
he famous Jamaa el fna square
- A visit of the main souks (different handicraft specialities)
More monuments are possible to visit in 1 day tour (optional) 
- Dar sis Said museum (except tuesday) (20 dh/pers) or
- Tiskiwin museum (20 dh/pers)
- Museum of Marrakech (50 dh/pers) or
- Maison de la photographie (20 dh/pers) 
       2- Visit of the main souks of Marrakech: 3 to 6 hrs
It is a visit to different handicraft quarters of Marrakech.
- ''Handicraft workplaces of ateliers'' 
-  Many shops specialised in different traditional handicrafts and differents parts
This visit can be combined with the nearby Jamma el fna square and/or with
                  3- Tailor-made tours: 3 to 7 hours
---
Excursions outside Marrakech
   It is possible to organise an excursion to the suroundings of Marrakech to one of the most beautiful valley's
of the high atlas montains just 1 hour from Marrakech where you can visit a berber souk,  a berber house
and enjoy the beautiful landscapes.
DUTCH:
   In het geval dat Jullie nog een excursie naar de bergen zouden willen doen,
maandag, donderdag of vrijdag zijn de beste dagen voor de Ourika vallei, vanwege de weekelijkse souk.
Maandag (de souk van Itnin Ourika) en dat betekent de maandag van Ourika.
Donderdag is een andere souk makkelijk bereikbaar in Ourika.
Vrijdag is een andere souk in Aghmat, en dat ligt in dezelfde weg naar Ourika.
Dat zijn dus weekelijkse landelijke, lokale (berber) markten (souks) en dat is een uur vanaf marrakech.

De tweede mogelijkheid is het bezoeken van een andere vallei met zijn souk dinsdag of zaterdag en dat is de
Asni vallei met de souk (Tahanaout) en dat is ook ongeveer een uur afstand righting dezelfde bergen van de
hoge atlas.

   Het is mogelijk in beide excursies om een berber huis te bezoeken.

Deze excursie naar de Bergen begint om 09:00 of 10:00 tot ongeveer 16:00 uur.

Het is ook mogelijk om 11:00 of 12:00 uur te beginnen tot ongeveer 16:30.

Of vroeg vertrekken en vroeg terugkomen!?